Precision Cancer Screenings
From healthcare providers, to employers, to patients, our team works to bring accessible alcohol, smoking, and lung cancer tests to all.
Presently, there is a demand for reliable and accurate tests for alcohol and tobacco use, as well as lung cancer screenings.
Ideally, these tests should be simple to administer, with a quick turnaround, and results that are precise and come with guidance on how to proceed with a treatment plan next. They should also be relatively affordable, and the data should be digestible for patients, so they can feel fully included in the discussion of their health.
At Behavioral Diagnostics, we fulfill this demand for tests every day by producing comprehensive and accessible take-home test kits. Backed by years of epigenetic research, these tests are intensive, intuitive, and return results quickly.
Specifically, our tobacco and alcohol tests cannot be fooled by short-term cessation or replacement, and our lung cancer screening is detailed, and provides and eight-year quantitative analysis, complete with personalized treatment guidance for group decision-making.
We are proud to develop high-quality medical products such as these for healthcare providers, insurers, employers, patients, and others who need them. Making health more accessible to all is a goal we are happy to fulfill, one kit at a time.
Who we help with our screenings
Our screenings are available to everyone; patients, healthcare providers, and insurers. Contact us to find how you can be screened.
Tests made for healthcare professionals, backed by years of experience and research.
Receive accurate, precise risk assessments for underwriting.
Detect and monitor potential substance abuse before it leads to a workplace incident.
A whole new way to monitor your health and discover something about your genes.
How we identify and quantify
Our process is simple and thorough—anyone can follow it, everyone can benefit.
Order Lung CA™, Alcohol Signature®, or Smoke Signature©, and set an appointment to have your blood drawn. Then ship the pre-paid package back to us!
Receive your diagnostic results in only a few short days. Your results are delivered in a report that is easy to understand. Your results are also private.
Give yourself 1 – 3 months to make changes to your consumption. This can lead to a healthier lifestyle and lower your chances of disease. You will start to see benefits.
Lastly, contact Behavioral Diagnostics to order the tests again and track your progress as you make your changes. This helps ensure you're on the right track.
are caused by cancers not commonly screened for.
Choose the product that's right for you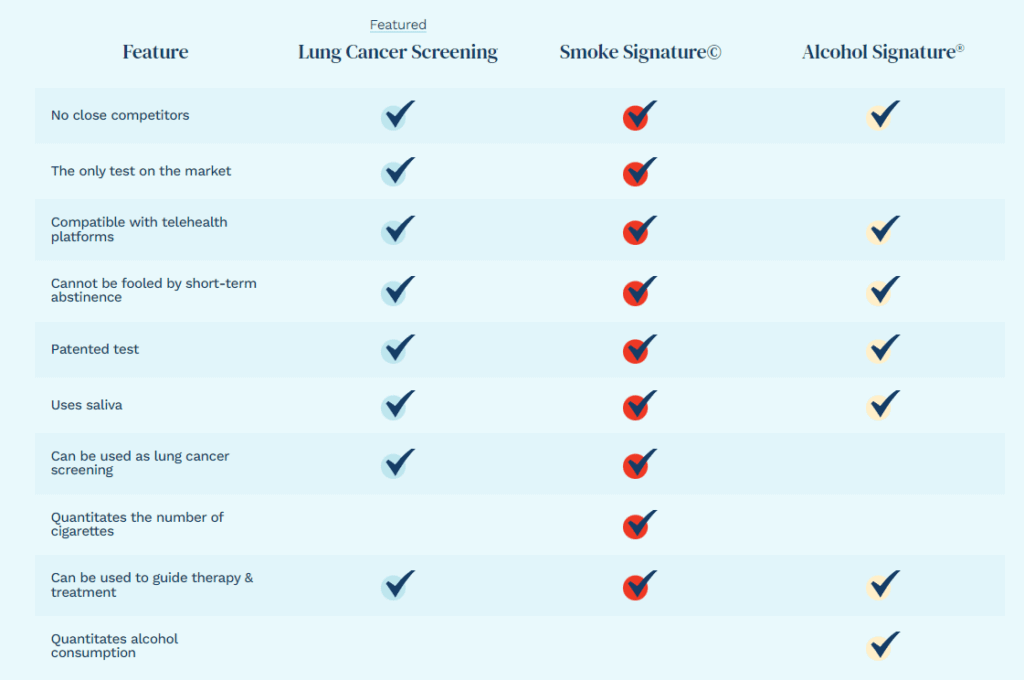 The only test on the market
Compatible with telehealth platforms
Cannot be fooled by short-term abstinence
Can be used as lung cancer screening
Quantitates the number of cigarettes
Can be used to guide therapy & treatment
Quantitates alcohol consumption